INTRO
H2planet provides powertrain and H2 storage for the "Futura" electric boat built by the University of Bologna: the UniBoaT project promoted at the Monaco Solar and Energy Boat Challenge.
DESIGN
The single-seater catamaran with constructive solutions.
A single-seater catamaran with technological solutions with a reduced environmental impact: power is supplied by an electric battery, a hydrogen cell and three photovoltaic panels. The passenger compartment, on the other hand, was created by recovering the chassis of a single-seater racing car fixed on recycled aluminum bars, the same goes for the hulls with composite carbon laminates. Carb2life, an Alma Mater startup, it's the company that has collaborated in the reuse of carbon elements by exploiting all the advantages.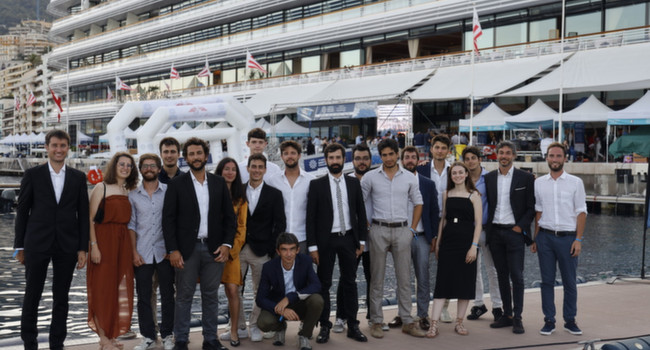 THE FOCUS
The main objective is to develop future-oriented technologies that can be applied not only to the maritime industry but also to other forms of transport.
FEATURES
H2planet's experience in the design of fuel-cell systems has given life to a propulsion system with cylinders in carbon fiber and plastic and an air-cooled stack
-
Fuel Cell PEM da 2 kW
-
Hydrogen tank of 9 liters and 200 bar
-
Pressure Reguletor System
- Self-contained lithium-ion battery Custom designed housing and BMS
- Monocrystalline photovoltaic panels with customized MPPT Self-designed mechanism for instant adjustment of the panel orientation
- Torqeedo Motor with custom inverter for more power and better electrical efficiency
- Customer-developed control strategy for real-time energy management and power demand control
- Reuse of an FSAE racing car chassis for cockpit construction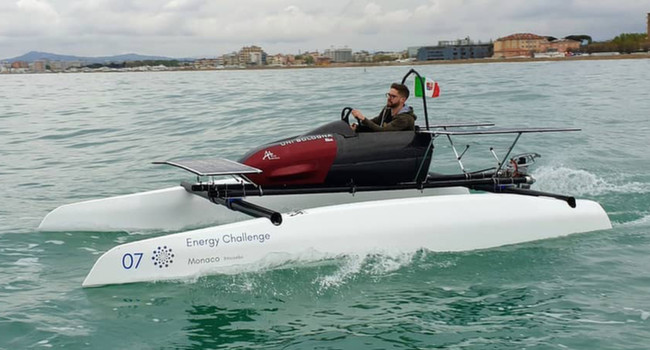 POWER SUPPLY
Futura's power supply is managed by a prototype battery pack and a hydrogen cell, together with three high-efficiency photovoltaic panels that offered an additional contribution to the energy available during the race.
THE ENVIRONMENT
Two worlds capable of contaminating each other.
Based on the experience gained in the Motorsport field, the UniboAT project came to life at the end of 2018 through a team that still today produces technological and innovative cars in view of Formula student competitions.
Two worlds capable of interlocking each other, so much so that the knowledge acquired can prove to be precious both in the nautical world and in the transport sector, a sector with the greatest environmental impact