UNITED NATIONS GLOBAL SERVICE CENTRE
Long term energy storage, storing for months and seasons using the PEM electrolysis and fuel-cell system by H2planet
THE PROJECT
Hydrogen technology
The UNGSC - United Nations Global Service Center pilot project in Brindisi was developed by the Technology Infrastructure Support Unit in late 2021 and supplied by H2planet thru own products for an ambitious mission never achieved before by the United Nations:making zero emissions UN missions, creating energy independent missions from the grid and power supplies such as fossil fuels. An highly innovative pilot project to store and supply green power through PEM fuel-cell hydrogen technologies and renewable sources of energy.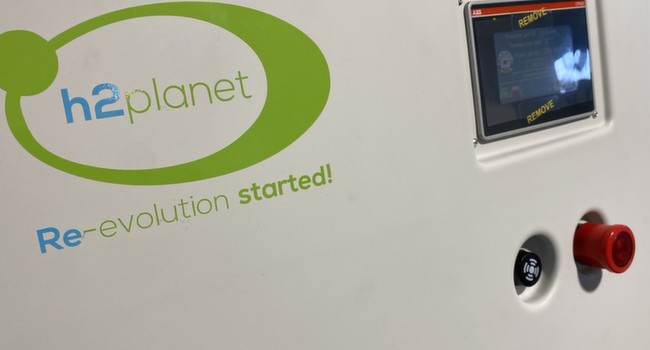 THE TARGET
With this pilot project, the ambitious goal of creating future zero-emission humanitarian missions around the world, in harmony with the environment and the renewable resources available on site and which can be stored safely.
A container for missions in extreme and isolated areas of the planet that captures the energy of renewables and stores it in a lasting and safe way using only one ingredient: water accumulated by rains and condensation system.
THE SYSTEM
An H2planet Hy-PEM ONE electrolysis system with a single latest generation PEM stack up to 1Nm3 / h of production capacity at 15bar is powered by a photovoltaic system and is capable of producing hydrogen and oxygen.
The precious hydrogen gas, the energy carrier of our zero-emission future, is stored using the latest H2planet MyH2 7000 metal hydride technologies. An advanced remote cartridge filling control system via the HYinONE app is able to monitor the process via smartphone and capable of returning the gas to a latest generation fuel-cell generator capable of producing up to 4.25kW of electrical power and also recovering the hot air component.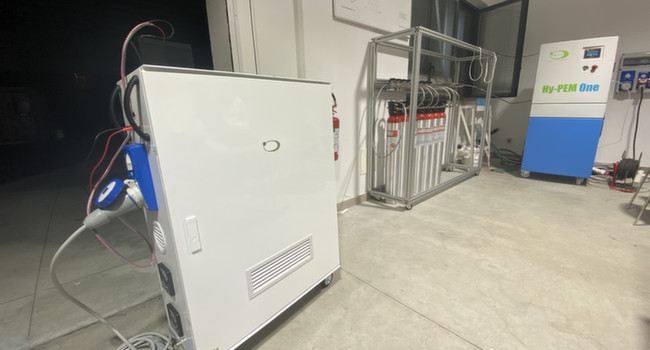 L'INSTALLATION
The installation involved H2planet specialized personnel and UNGSC personnel in two working days in order to start the demonstration plant and train the personnel.
The storage system with app control made it possible to demonstrate the complete remotability of remote monitoring via the app and the functions of remote ignition of the electrolysis plant, H2 storage and power supply via the fuel-cell generator.
PRESENTATION AT UNGCS
The UGSC staff was invited by the UNGSC management to take part in an explanatory briefing held by Marco Levi, H2planet administrator about the potential of hydrogen as an energy storage tool.
Taking a cue from the installation, the use of the entire storage system and the supply of the cogenerative power of the PEM fuel cell through a resistive load of 4.25kW of electrical power were then demonstrated.