The Hydrogen Council Announces Significant Membership Growth
20 / 01 / 2020 •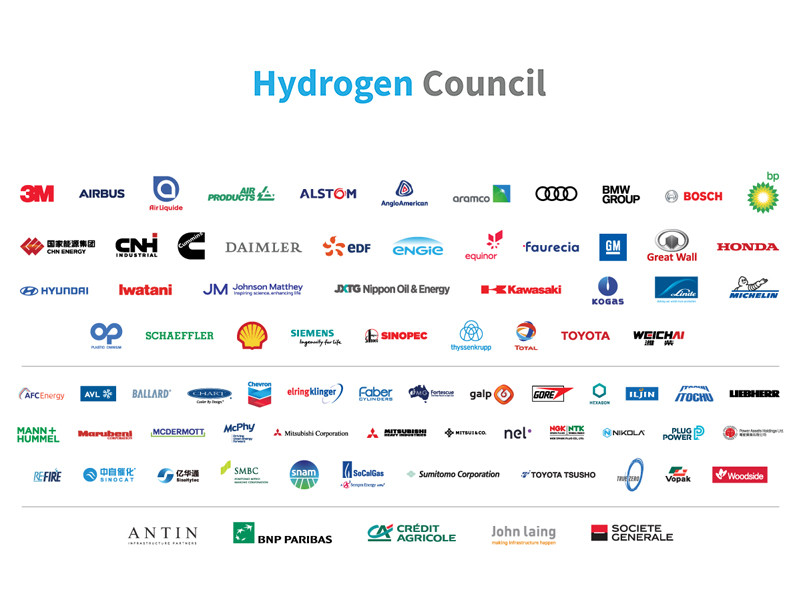 The Hydrogen Council on 15th January announces a wave of new members to include for the first time both an Australian and Saudi company, as well as a group of financial institutions which form a new Investor Group with the aim of supporting massive scale-up of hydrogen solutions to help decarbonise sectors including transport, buildings and heavy industry.
The Council grows to 81 companies as it welcomes 22 new members, including five steering members: CNH Industrial (via IVECO), Michelin, Saudi Aramco (via the Aramco Overseas Company), Schaeffler Group, and Siemens; 12 supporting members: Chart Industries, Chevron, ElringKlinger, Fortescue Metals Group, Galp, ILJIN Composites, MANN+HUMMEL, McDermott, Nikola Motor, Sinocat, Snam, and Woodside Energy; and a new Investor Group of five companies that occupy the financial space: Antin Infrastructure Partners, BNP Paribas, Crédit Agricole, John Laing, and Société Générale.
The Hydrogen Council is a global initiative of leading energy, transport and industry companies with a united vision and long-term ambition for hydrogen to foster the energy transition.

Launched during the 2017 World Economic Forum in Davos, the growing coalition of CEOs have the ambition to:
◦ Accelerate their significant investment in the development and commercialization of the hydrogen and fuel cell sectors.
◦ Encourage key stakeholders to increase their backing of hydrogen as part of the future energy mix with appropriate policies and supporting schemes.
As a group of CEOs of leading global businesses, the Hydrogen Council invites policy-makers, investors and civil society stakeholders to acknowledge the contribution and potential of hydrogen as a key element of the energy transition. Together, we seek to define and implement a specific action plan with appropriate supporting tools that will help accelerate major investment into large-scale commercialization of hydrogen solutions across industries world-wide. The coalition has more than quadrupled in size since its founding in 2017 by 13 members.
The addition of the Council's newest members is the culmination of a year of strong progress in 2019. Across the last year, the Council engaged ministers at the Hydrogen Energy Ministerial and several other forums, established partnerships with international organisations such as IEA Hydrogen and the European Investment Bank, and hosted industry leaders as well as members of the investment community during its Investor Day at the G20 Summit. And now, the launch of the Investor Group is another step in defining and implementing specific action plans with appropriate supporting tools that will help accelerate major investment into large-scale commercialisation of hydrogen solutions across industries world-wide.

It is expected that by 2050, hydrogen could meet 18% of the world's energy demand with hydrogen applications being scaled, driving down cost, and making the solutions more affordable for everyday people.
"We believe in the power of hydrogen and the role it can play in our existing energy system as well as a new cleaner one," said Euisun Chung, Executive Vice Chairman of Hyundai Motor Group and Co-chair of the Hydrogen Council. "I continue to be inspired by the expansion of the Council's membership and look forward to partnering with our new member companies as we continue to advocate for a clean energy future, with hydrogen at the forefront."


From: HydrogenCounsil.com